Kendra Kleidon Via, owner and founder, Turtle Herbals, has an AOS in Culinary Arts from the Culinary Institute of America, BS in Integrative Health Care from Metropolitan State University of Denver and countless courses accredited through the American Herbalist Guild, with over ten years in fine dining and nine years in herbalism.
Turtle Herbals creates small batch, hand-crafted, organic and herbal soap, salves, scrubs, bath products, tea and much more! They source high quality, sustainable ingredients from reputable providers.
Visit Kendra on Instagram at: @turtleherbalslove
Kendra's Product Photography Goals
Kendra's goal was to learn to the step-by-step process to plan, stage, shoot and process product photography. She is in the process of building a new website for the holidays and desired new seamless white backdrop product photography. We love supporting startup entrepreneurs and invited her over to our studio for a session. For this shoot Kendra used the MyStudio® MS32LED photo studio kit along with the MSJ1 12-piece jewelry prop and toolkit.
Kendra's product photography uses:
Website photos
Ecommerce product catalog
Multimedia and video production
Social media
Email marketing
Planning and Staging the Photo Shoot
Set up one or two tables to lay out your products for the photo shoot. Then take out your MyStudio® accessories to mix and match product with what looks good with a white or black background.
Set up one or tables to lay out product
Create a spreadsheet checklist for products to shoot
Get creative with your MyStudio® accessories
Tether your camera to a large monitor to view photography lighting and composition (optional)
Remember to shoot combinations of products to create packages to sell
Cleaning supplies – Brush / dust off products with glass cleaner, sponge and computer screen cloth
Make sure to have water and snacks available during the shoot so you can focus
MYSTUDIO® MSJ1 12PC JEWELRY PHOTOGRAPHY PROP AND TOOL KIT
In the world of retail, good photos are a critical element in advertising your products. In perhaps no segment of the marketplace is this more true than jewelry. The MSJ1 12pc Jewelry Kit contains a wide variety of jewelry display stands, props and product photography tools used by the pros, to inspire your creativity and help you take professional looking photos of virtually any type of jewelry. The kit contains:
2 – 9″ x 12″ Black Bounce Cards w/ easel backs (used for fill and shadows)
1 – White Leatherette Necklace Stand
1 – Black Velvet Necklace Stand
1 – White Leatherette Earring Stand
1 – Black Velvet Earring Stand
1 – White Leatherette Bracelet Holder
1 – Black Velvet Bracelet Holder
1 – Clear Acrylic Watch Stand
Acrylic Panels
Create stunning reflections under your small products with these beautiful acrylic panels. Each reflective panel is 2-sided and comes covered on both sides with a protective adhesive backing. Simply peel back one side to reveal a pristine reflective surface and leave the other side covered until you need in the event the first side becomes scratched. Each pack contains:
1 – 9.5″ x 11.75″ Reflective White Acrylic Panel
1 – 9.5″ x 11.75″ Reflective Black Acrylic Panel
Positioning Wax
Use this positioning wax with any of the MyStudio complete photo studio kits to position and prop up your jewelry or other small products that don't stand up well on their own. Each package contains twenty-five 3/8-inch diameter dots of reusable white positioning wax. To use, simply pinch off a small piece of wax, rub it between your fingers to warm it up, then mold it to any shape and use it to position your product at the best angle for taking photos.
Positioning wax is commonly used to prop up small items such as rings, coins, cell phones, small figurines, etc.* The wax may be used over and over; generally one package will last several years.
Tethering the Panasonic GH5
In the next article we will cover Tethering and how to use a large monitor to view photos live. In this set up we have an Apple MacBook Pro running Panasonic's GH5 LUMIX Tethering Software .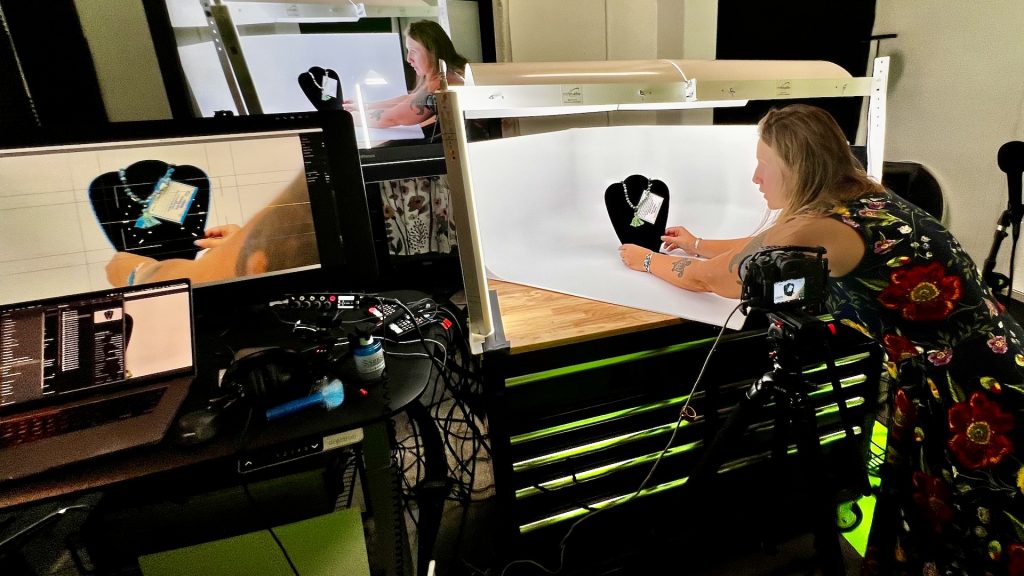 Thank you Kendra & Turtle Herbals!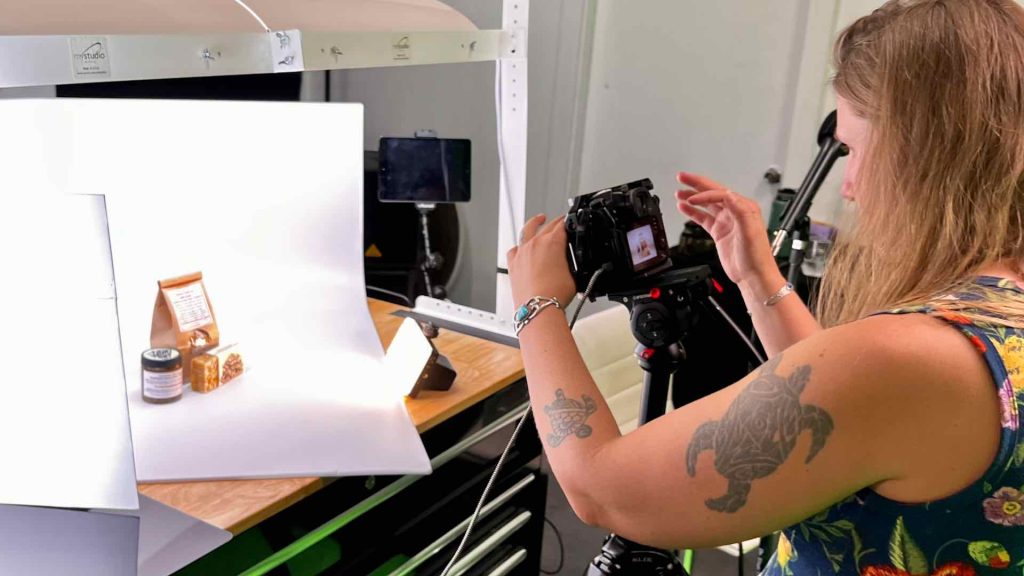 Support Kendra's new Turtle Herbals website and holiday shopping catalog launch! We will catch up with her soon to share photos and her new catalog.
Follow @turtleherbalslove and share with your friends.