We experimented this week creating innovative ways to capture light. We were sent new 3D printed fabric samples from friends at StrataSys. The new Stratasys 3D fabric printing open up a new wave of creative fashions that reflect light and changes colors under different spectrums of light.
Instead of the standard white photography we tested black lights, lens and vapor with exotic 3D fabric samples.
Watch this video from Milan Design Week 2022
My Studio Setup: Black Light and Colored LED Lights with Aura Color Galaxy Starlight and Mister
The goal was to create different colored looks by reflecting colored LED light into the Stratasys 3D printed fabric. Then we added in a black light and humidifier to add a light fog effect.
Here is our product list suggestions to build a new My Studio MS-32 Color Studio:
The studio set up uses the Aura Color Galaxy light to project the moon, colored light and laser light behind the Stratasys 3D printed fabric sample. Then we set up the LED lights above and in front of the photo object. The black light wa placed on the top front rail of the MyStudio MS 32.
The fog machines place on the side of the MyStudio to complete the set. Then we moved the LED lights around to capture the colored reflection and "chameleon look" the Stratasys 3D printed fabric reflects under these dynamic lighting conditions
My Studio MS32 Color LED Results
The new 3D printed StrataSys fabric reflects the LED colored light to create all types of different translucent colors. Using typical white only lighting does not showcase the material's multiple color reflection qualities. Below is a sample of the different LED colored light reflections on the fabric.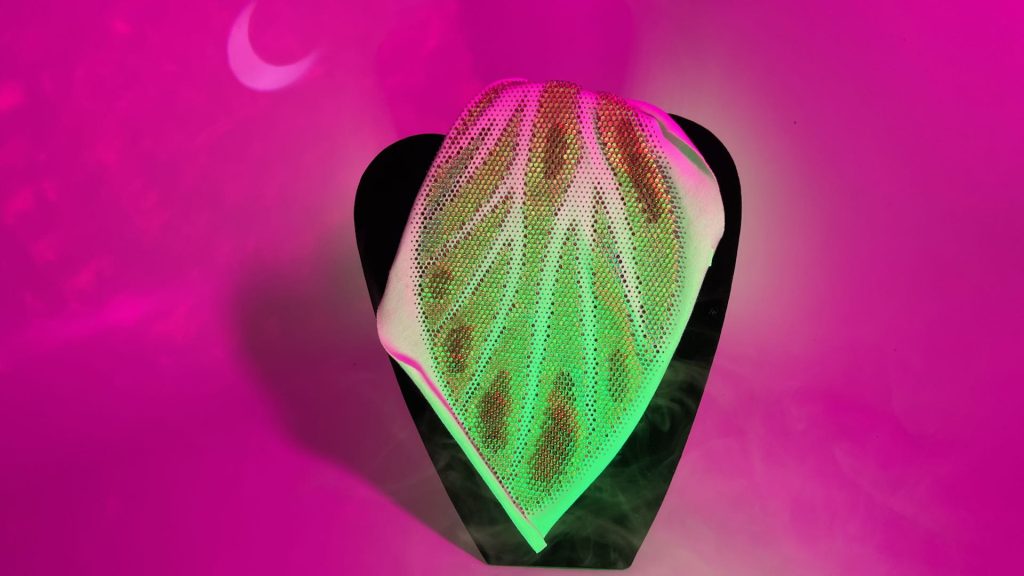 Get Creative with Color!
The above experiment worked and produced amazing results with the My Studio MS32 desktop photography studio and the package of LED lights, black light, fog mister and Aura Color Galaxy light.
Have fun with your creative ideas and try something new!